In the video that went viral in Vietnam recently, a police officer forbids a church member of a group not recognized by the government from joining online services – and threatens his family members if he doesn't obey.
"Now, I must tell you the following: I forbid you to access Zoom to learn religious dogma and laws and listen to or follow [church founder] Klao Jer Vue," said Doan Xuan Nam, head of the Bac Ha police department in northern Vietnam.
"Can you do it? If not, your wife and children must be careful," he says. "The village won't allow you access to its water resources."
The incident involving the God Loves Us Church highlights Vietnam's continued restrictions on religious freedom, which is guaranteed in its constitution.
In fact, Vietnam has reversed modest progress and become more oppressive in this regard, the U.S Commission on International Religious Freedom said on Tuesday, ahead of U.S. President Joe Biden's weekend visit to Hanoi.
Recent "crackdowns on civil society, increased pressure on independent religious communities, alarming reports of forced renunciations of faith, and other growing religious freedom violations add up to a clear reversal in that once-positive trajectory," it said.
Requirements that religious groups register with authorities also goes against Hanoi's commitment to religious freedom, the report said.
"Government authorities continue to closely monitor all religious activity, often harassing, detaining, or otherwise preventing unregistered faith communities from exercising their fundamental right to religious freedom," it said.
Monitored and harassed
The video depicting the threats against the family of Giang A. Chu, ethnic Hmongs from Bac Ha district in the northern province of Lao Cai, was filmed on March 29, but spread on social media only recently.
Since that warning was issued, Chu's family told RFA Vietnamese that police set up a checkpoint near their home and two or three security staff are stationed there around the clock.
Police also confiscated their mobile phones and returned them only after deleting all the apps they were using to watch online services. Also, the family's power generator, which was installed in a stream nearby, was stolen in early May, and they don't know the perpetrators.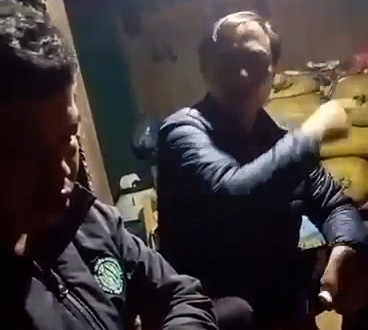 According to a report by Chang A Pao, a leader in the God Loves Us organization, local authorities have regularly harassed adherents for many years, including a recent incident at Pao's home in Lai Chau province.
On August 27, 2023, a group of local police officers and public servants came to his home to disperse his fellow adherents from a gathering.
"That Sunday, government officers of provincial, district and commune levels came and banned us from practicing the religion together," another group leader, Sung Phai Ta, who was among the attendees at Pao's house, told RFA.
Local authorities then arrested four people, including Vang Ca Lung, Chang A Pao, Sung Va Hoa, and Vang Thi May, Ta said.
They even forced one of them – Hoa – to sign a declaration renouncing his faith, Ta said, but he refused.
"Once they put him down on the ground, he came back to the house, and then they carried him out again," said Ta. "They did it three times!"
Asked to recant faith
Since 2017, many followers of the religious group have been invited to police stations to sign statements renouncing their faith, a letter from one of its members, Thao A Chang, to both the Government Committee for Religious Affairs and the U.S. Embassy to Vietnam.
Under pressure from local authorities and police, 103 out of a total of 794 followers recanted, the letter said.
Vietnamese authorities consider the God Loves Us Church to teach heresy, and accuse its leader, Vu Thi Do, who lives in Wisconsin and is also known as Klao Jer Vue, of separatism.
She has been "using the Internet to disseminate content and information that divides the great national unity, encourages the idea of separatism and self-rule, and calls for the establishment of a 'separate state,' according to a post on Lai Chau Provincial Police's website on Aug. 15.
"The Vietnamese state-owned media does not know the truth," Vu Thi Do said in an email to RFA. "They accused us of attacking orthodox religions and committing other bad things as if we were a bad political organization plotting to overthrow the government."
She said the government paid other Hmong people to bear false witness against the church.
"Our followers in Vietnam don't sabotage the government's assets or violate the central government's rules and regulations," she said. "Meanwhile, local authorities come to our members' homes, threaten to put them in jail, confiscate their cell phones, laptops and even destroy their food."
She also said all the information about her church published by state-owned media was wrong and the crackdown against it should come to an end.
"Abuse and violation of civic rights should be stopped," she said. "Hmong people are Vietnamese citizens. They should be treated fairly and equally as other Vietnamese."
Translated by Anna Vu. Edited by Eugene Whong and Malcolm Foster.