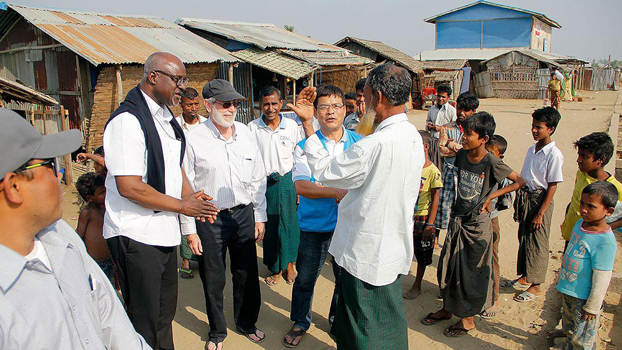 A global faith-based humanitarian group has fired more than 80 local Burmese employees working in western Myanmar's Rakhine state following a strike over demands for a fixed euro exchange rate for salaries, some of the terminated workers said.
The Lutheran World Federation, headquartered in Geneva, Switzerland, has operated in Myanmar since 2008 and provides humanitarian and educational assistance to Rohingya refugees and others affected by armed conflict in Rakhine.
The laid-off employees said the group emailed them termination letters on Sept. 4, saying they were let go because they had violated the rules of its branch in Sittwe, the capital of Rakhine state.
All the workers went on strike on Aug. 14, but the organization did not address their grievance about the exchange rate, said one of the affected employees who declined to be identified so as not to not risk any retribution for speaking to the press about the incident.
"We have been asking to be paid at the current exchange rate for years, but they haven't done anything about it," he said.
The employees had contracts stating that they would be paid in euro equivalent. Instead, they were paid at a fixed exchange rate of 2,100 kyats (US$1) to the euro.
"Our salaries are usually transferred to us by a private bank, but we do not receive our pay according to that bank's euro exchange rate," the affected employee said.
Employees have one-year to three-year labor contracts, he said.
Those fired, including married and pregnant women, have not received their salaries for the past month, nor have they received any compensation for their termination, he added.
Radio Free Asia emailed David Mueller, the Lutheran group's country representative in Myanmar, and Ruth Ait Bah, regional finance and administration manager, for comment on the staff dismissals, but did not receive responses.
Translated by Myo Min Aung. Edited by Roseanne Gerin and Malcolm Foster.