Chinese Premier Li Qiang on Wednesday extolled his country's "brotherly ties" with Southeast Asian nations, but skirted the issue of China's new map that shows Beijing's claim over some of its neighbors' waters in the South China Sea.
Disagreements must be handled through dialogue, Li said, addressing the Association of Southeast Asian Nations leaders in Jakarta.
"We have preserved peace and tranquility in East Asia in a world caught with turbulence and change. In particular, we confronted the COVID-19 challenge by coming to each other's aid in those difficult times," Li said. "And that is a reflection of our brotherly ties in the face of adversity with concrete actions."
Li avoided any mention of China's new map, which was released last month and shows Beijing's expansive claim over most of the South China Sea, including territories overlapping with the exclusive economic zones of ASEAN countries Brunei, Indonesia, Malaysia, the Philippines and Vietnam. Those countries, India and Taiwan have objected to the map.
In a statement Wednesday, Indonesia, the ASEAN chair, did not mention the Chinese map, but said disputes over the South China Sea must be settled "in accordance with the universally recognized principles of international law, including the 1982 UNCLOS (the United Nations Convention on the Law of the Sea)."
The statement also did not specifically mention China Coast Guard firing water cannons at a Philippine Coast Guard ship in the disputed waters.
It did say that "some ASEAN member-states" expressed concern about "serious incidents in the area, including actions that put the safety of all persons at risk."
A day earlier Philippine President Ferdinand Marcos Jr. in a meeting with his ASEAN counterparts did not name China but made strong statements about territorial integrity.
"We do not seek conflict; but it is our duty as citizens and as leaders to always rise to meet any challenge to our sovereignty, to our sovereign rights and our maritime jurisdictions in the South China Sea," he said.
"No country would expect any less. No country would do any less."
The Philippines, he said, calls upon all parties for self-restraint on activities that complicate South China Sea disputes.
"The Philippines firmly rejects misleading narratives that frame the disputes in the South China Sea solely through the lens of strategic competition between two powerful countries," Marcos said.
"This not only denies us our independence and our agency, but it also disregards our own legitimate interests."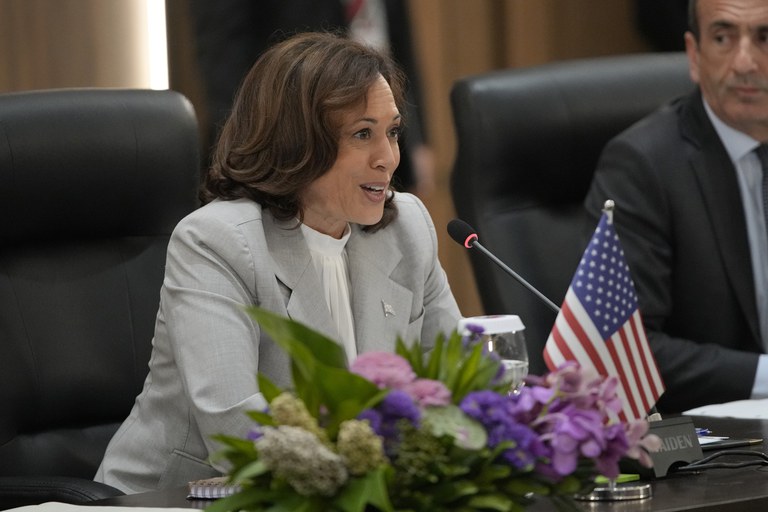 The U.S. representative at the summit, Vice President Kamala Harris, pledged Washington's support of ASEAN.
"ASEAN is at the center of America's commitments to the Indo-Pacific. As the United States Indo-Pacific strategy makes clear we are committed to ASEAN centrality," Harris said.
"Since President Biden and I took office we have expanded ASEAN ties. To that end, we have upgraded the relationship to a comprehensive strategic partnership. We invested in infrastructure and the digital economy. We launched major initiatives to address the climate crisis and health security."
Myanmar discussions
ASEAN members also addressed the crisis in member-state Myanmar, where a military coup in February 2021 toppled the elected government and unleashed a brutal crackdown on protesters and civilians.
More than 4,000 people have been killed and thousands more arrested by security forces since then, according to a monitoring group.
In a statement released Wednesday, the ASEAN leaders expressed grave concern over the lack of progress in implementing their five-point consensus on Myanmar adopted in April 2021. It calls for an immediate halt to violence and a dialogue among all parties.
The escalation of violence is "causing prolonged suffering for the people of Myanmar, humanitarian crisis, the destruction of houses and public facilities such as schools, hospitals, markets, churches and monasteries, and adverse impacts on regional stability, particularly along the border region," the statement said.
Still, the leaders reiterated their position that the consensus plan remains ASEAN's main reference to address the Myanmar situation.
Harris said the U.S. would continue efforts to return democracy to Myanmar.
"We have a shared commitment to international rules and norms and to our partnership on pressing national and regional issues such as the crisis in Myanmar," Harris said.
She said the U.S. would "press the regime to end the horrific violence, to release all those unjustly detained, and to reestablish Myanmar's path to inclusive democracy."
In a separate meeting with leaders of ASEAN, South Korea and Japan, Li urged those leaders to find common ground, avoid a new "Cold War" and reject attempts to force countries to take sides.
China has accused Washington of a "cold war" mentality as it pushes back against perceived efforts to contain Beijing's rise as a global superpower.
Beijing has also suggested that Washington, through its alliances and partnerships with other countries, seeks to isolate or pressure China on issues such as trade, technology and territorial disputes.
"To keep differences under control, what is essential now is to oppose picking sides, oppose bloc confrontation, and oppose a new Cold War and to ensure that disagreements and disputes among countries are properly handled," Li said.
Away from ASEAN proceedings, Li joined Luhut Pandjaitan, Indonesia's coordinating minister for maritime affairs and investment, for a trial run of the China-funded high-speed train connecting Jakarta with the city of Bandung. The two discussed potentially extending the $7.2 billion project, according to Reuters news service.
The rail project is the most high-profile of China's Belt and Road Initiative projects in Indonesia, Southeast Asia's largest economy. It has been touted by Indonesia and China as a symbol of the close ties between the two countries.
BenarNews is an RFA-affiliated news service. Staff in Manila contributed to this report.