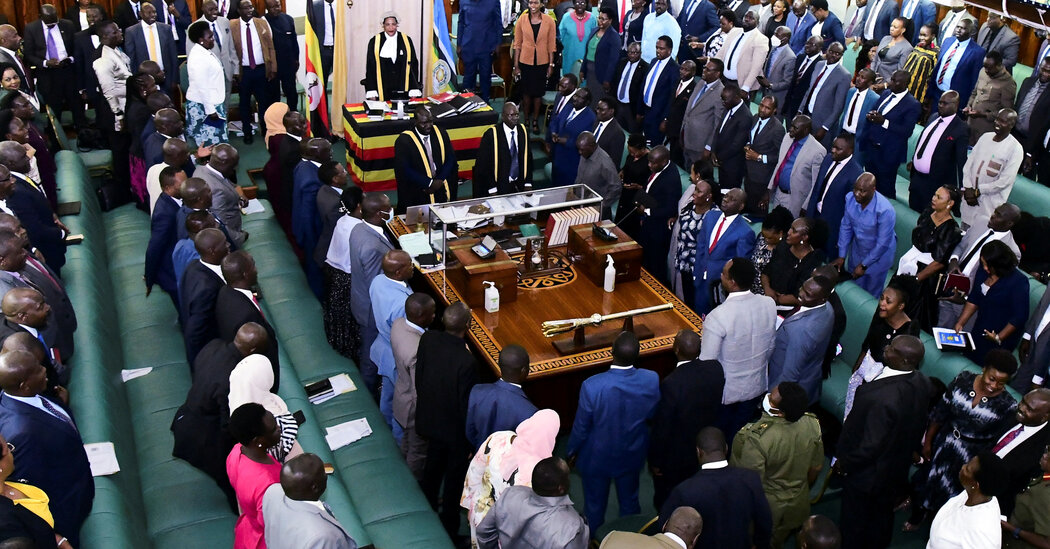 Uganda's harsh new anti-gay law
The president of Uganda signed a punitive anti-gay bill yesterday that includes the death penalty as a punishment, enshrining into law an intensifying crackdown on L.G.B.T.Q. people in the conservative East African nation.
It calls for life imprisonment for anyone who engages in gay sex. Anyone who tries to have same-sex relations could be liable for up to a decade in prison. The law also decrees the death penalty for anyone convicted of "aggravated homosexuality," which is partially defined as acts of same-sex relations with children or disabled people.
Context: Homosexuality was already illegal in Uganda. But the new law — one of the world's most restrictive anti-gay measures — calls for far stricter punishment and broadens the list of offenses.
Reaction: Many L.G.B.T.Q. people have fled Uganda since the law was introduced in Parliament in March. "There's fear that this law will embolden many Ugandans to take the law into their hands," said Frank Mugisha, the most prominent gay rights activist in Uganda.
Politics: President Yoweri Museveni has dismissed widespread calls — from the U.N., Western governments and civil society groups — not to impose the measure.
Region: A growing number of African countries, including Kenya and Ghana, are considering passing similar or even stricter legislation.
---
A rare morning assault on Kyiv
Powerful explosions ripped through Ukraine's capital yesterday morning, just hours after Russia launched an overnight barrage. Frightened pedestrians hurried to get off the streets, and children wearing backpacks started to run and scream when booms resounded, a video showed.
Ukraine said it shot down all 11 of the missiles that Russia fired. Falling debris caused some damage, and information about possible casualties was still being clarified.
Russia has launched 16 attacks on Kyiv this month, but this was the first daytime strike there in many weeks. Ukrainian officials say that Moscow is adjusting its tactics to try to inflict maximum damage. So far, Ukrainian air defenses, reinforced by Western weapons, have largely thwarted the aerial attacks on Kyiv, limiting casualties and damage in the highly populated area.
Details: More than 41,000 people took shelter in subway stations when air raid sirens sounded around 11 a.m., officials said. Parents raced to protect their children, and hospital workers huddled in shelters.
---
A lunar landing would be a significant achievement for China in its competition with the U.S. in space. No human has been on the moon since the U.S. Apollo missions in the 1960s and '70s. NASA wants to put people on the moon again, with a target of 2025, but that plan, known as the Artemis program, has faced delays. A U.S. report last year warned that China could overtake the U.S.'s abilities in space by 2045.
China in space: It is the only country to have successfully landed on the moon in the 21st century, and in 2019 it became the first to land a probe on the moon's far side.
THE LATEST NEWS
Asia Pacific
A travel writer used a 22-year-old guidebook to lead him through Tokyo on his search for bars and restaurants that express the city's traditional eating and drinking culture. It took him to old stalwarts like Iseto, a sake den that's operated out of the same wooden house since 1948.
"The long-term survival of old-school places like Iseto is an accurate barometer of how much a city has been able to stay true to itself and resist the onslaught of the hot and new, often bywords for globalized sameness," he writes.
ARTS AND IDEAS
Lessons from 'Succession'
With the show's finale on Sunday, viewers of HBO's satire of the ultrawealthy learned the fate of the media empire of Logan Roy, the late tyrant. (Here's a recap.)
The final episodes were set against the backdrop of a country in crisis. But the Roys fanned those dark political forces for ratings — and then they backed a far-right presidential candidate. Indeed, our chief television critic writes that "Succession" has showed how the problems of the ultrawealthy affect all of us: "They have so much influence and so little sense of responsibility."
Are you a "Succession" superfan? Take our quiz. And if you already miss the show, here's what to watch next.
PLAY, WATCH, EAT
What to Cook
The secret to great salmon: Add salt and wait.
What to Read
In "Yellowface" a white writer takes credit for her dead Asian American friend's manuscript.
Health
Why does day drinking feel different?
Now Time to Play
Play the Mini Crossword, and a clue: Reverberating sound (four letters).