Shou Zi Chew has said the most gruelling experience of his life was a five-day survival course in the jungles of Borneo when he was serving as a conscript in Singapore's armed forces.
The TikTok chief executive, whose trans-global academic and business career has rapidly propelled him to the top job at one of the world's biggest tech companies, will need to display some of that mettle as he battles to ensure the corporate survival of the controversial but immensely popular social video app.
The 40-year-old Singaporean, who faces questioning by US lawmakers on Thursday amid talk of a possible ban in the US, came from a relatively modest background: his father worked in construction and mother in bookkeeping. His fate was transformed at the age of 12 when high marks on a national exam got him into an elite high school, where he added fluency in Mandarin to his native English.
Following his military service – Chew is a reservist officer in the Singaporean army until he is 50 – he obtained a bachelor's degree in economics from University College London.
He stayed on in the UK capital, becoming a banker at Goldman Sachs for two years, investment experience that would eventually lead him to meet a young Zhang Yiming, the founder of TikTok's parent, ByteDance, when he was developing the company in a crammed apartment in Beijing's university district.
In 2010, Chew gained his MBA from Harvard Business School, where he got his first experience of life in the tech sector with an internship at Facebook while the social networking company was still in startup mode before going public in 2012.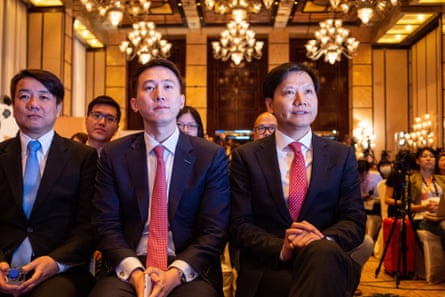 It was also where he met his Taiwanese-American future wife Vivian Kao, with whom he has two children. Chew – whose TikTok profile was created in February last year and has just 23 posts, including videos of him attending the Super Bowl and NBA games as well as meeting celebrities such as Bill Murray – does not allow his children to use the app, having said last November that they are "too young".
After business school, Chew joined the venture capital firm DST, founded by the Israeli-Russian IT billionaire Yuri Milner, where his Mandarin qualified him to be its China-focused partner.
This would see him make his pivotal visit to Zhang's ByteDance in 2012 before the team created TikTok, resulting in Chew and his partners investing in the startup the following year.
He also led investment in Xiaomi, the Chinese smartphone maker with global ambitions to take on Apple, which he joined as chief financial officer in 2015 at the age of 32.
Chew helped to secure financing that led to the company's public listing three years later. At the time this was one of China's biggest ever tech initial public offerings, although its share performance has since been mixed. He was made head of its international business in 2019.
In 2021, Zhang persuaded Chew to join ByteDance as its first chief financial officer. Two months later, he was elevated to chief executive following the abrupt departure of the former Disney executive Kevin Mayer after just three months, as the Trump administration attempted to force a sale of TikTok's US assets.
Chew's rise to the top of the tech industry landed him a spot on Fortune's 40 under 40 list in 2021.
The low-profile exec is now embarking on a media offensive as part of TikTok's wider efforts to galvanise support to avert a ban in the US and other countries.
"This could take TikTok away from all 150 million of you," he said in a post appealing to US TikTok users.