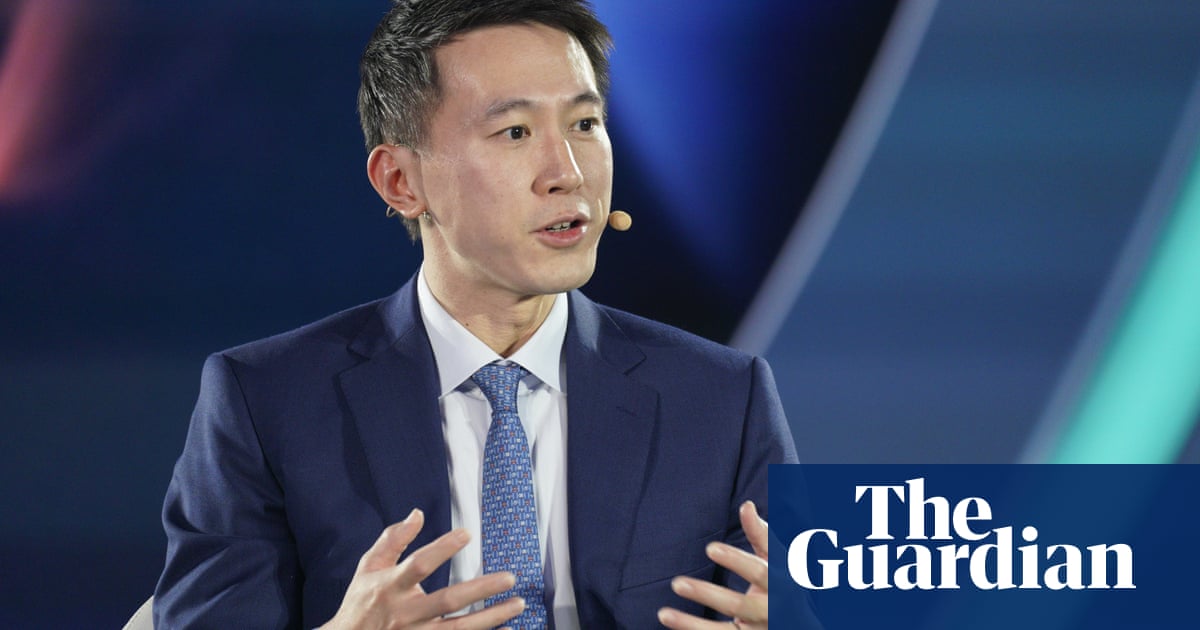 The chief executive of TikTok, Shou Zi Chew, is set to face a grilling from US lawmakers on Thursday as the political storm surrounding the China-owned social media platform intensifies with the Biden administration threatening to ban the app entirely in the US.g
TikTok, which is owned by the Chinese company ByteDance, has long faced criticisms over the data it holds on US users – data that lawmakers fear could fall into the hands of the Chinese government. While the platform has repeatedly denied those claims, stating it stores US user data outside of China, legislators on both sides of the aisle have united in their backlash despite the company's growing popularity.
In a statement announcing the hearing, Republican representative Cathy McMorris Rodgers claimed TikTok has "knowingly allowed the ability for the Chinese Communist Party to access American user data".
"Big tech has increasingly become a destructive force in American society," she said. "The energy and commerce committee has been at the forefront of asking big tech CEOs – from Facebook to Twitter to Google – to answer for their companies' actions. These efforts will continue with TikTok."
The appearance of Chew before the the energy and commerce committee, the first ever by a TikTok chief executive, will be a major test for the 40-year-old CEO who has previously remained largely out of the spotlight. He is expected to use his appearance to assuage lawmaker fears about data practices and commit to not allowing the Chinese government to influence TikTok in any way.
"Let me state this unequivocally: ByteDance is not an agent of China or any other country," Chew said in a statement shared in advance of his testimony.
Chew, a former Goldman Sachs banker who has helmed the company since March 2021, warned users in a video posted to TikTok earlier in the week that the company was at a "pivotal moment".
"Some politicians have started talking about banning TikTok," he said, adding that the app now has more than 150 million active monthly US users. "That's almost half the US coming to TikTok."
Ahead of Chew's appearance, Congress members had already criticized the company and Chew himself – suggesting that his testimony cannot be trusted. Senator Mark Warner said in a statement that regardless of what is said during the hearing, Congress should move forward with legislation that allows for a more comprehensive review of technology from foreign countries.
"While I appreciate Mr Chew's willingness to answer questions before Congress, TikTok's lack of transparency, repeated obfuscations and misstatements of fact have severely undermined the credibility of any statements by TikTok employees, including Mr Chew," he said.
TikTok has battled legislative headwinds since its meteoric rise began in 2018. Today, a majority of teens in the US say they use TikTok – with 67% of people ages 13 to 17 saying they have ever used the app and 16% of that age group saying they use it "almost constantly", according to the Pew Research Center.
This has raised a number of concerns about the app's impact on young users' safety, with self-harm and eating disorder-related content spreading on the platform. TikTok is also facing lawsuits over deadly "challenges" that have gone viral on the app. McMorris Rodgers said on Thursday that lawmakers "need to know what actions the company is taking to keep our kids safe from online and offline harms". TikTok has introduced features in response to such criticisms, including automatic time limits for users under 18.
The platform was first targeted formally by the Trump administration in 2020, with an executive order prohibiting US companies from doing business with ByteDance. Biden revoked that order in June 2021 under the stipulation that the US committee on foreign investment conduct a review of the company. When that review stalled, Biden announced that TikTok must sell its Chinese-owned shares or face a ban in the US.
The company has responded to concerns with attempts to demonstrate US data is safe, including its announcement of Project Texas – a $1.5bn investment to store US data outside of China that accelerated in January of this year.
TikTok's efforts to soothe US fears have not been sufficient, legislators say, and Congress members will seek to investigate today whether TikTok's data can be accessed by the Chinese government and whether the platform's highly tailored recommendation algorithm could be manipulated by the security services in order to influence what users see.
Some tech critics have stated that while TikTok's data collection does raise concern, its practices are not much different from other big tech firms.
"Holding TikTok and China accountable are steps in the right direction, but doing so without holding other platforms accountable is simply not enough," said the Tech Oversight Project, a technology policy advocacy organization, in a statement.
"Lawmakers and regulators should use this week's hearing as an opportunity to re-engage with civil society organizations, NGOs, academics, and activists to squash all of Big Tech's harmful practices," the group added.