A court in Vietnam has convicted seven people for "resisting on-duty state officials" during a demonstration against the demolition of a road that ran through their parish, which ended in clashes between protesters and riot police.
The trial took place at the headquarters of the People's Court of Nghe An province, according to state-controlled media. All seven residents of Binh Thuan parish were found guilty under Article 330 of the Criminal Code.
Bui Van Canh, 44, was sentenced to one year in prison. Ha Van Hanh, 42, Tran Thi Hoa, 52, and Tran Thi Thoa, 58, were sentenced to eight months. Tran Thi Nien, 38, and Ha Thi Hien, 35, were both sentenced to six months in prison. Bach Thi Hoa, 70, was sentenced to four months and 17 days — exactly the same amount of time she spent in detention — and was released.
On July 13, hundreds of riot police descended on the parish in Nghe An's Nghi Thuan commune to stop protesters removing a fence blocking a road that connects the parish to a national highway. The road, which had been in use for more than 100 years, is located on land the government granted to a private company for a planned industrial zone.
According to the indictment, the defendants "and many other extremists strongly opposed and obstructed" construction workers who were trying to demolish the road and the police sent to protect them. The indictment said protesters were: "shouting, cursing, carrying beer bottles; picking up and gathering rocks and glass bottles to provide for other protesters to throw at the riot police who were guarding works; using their hands and sickles to push the barbed wire fence to widen the road for the opponents; and directly rushing in and using their hands to push and beat repeatedly on the shields of the riot police." As a result, it said, five police officers were injured and had to be treated at the hospital.
The protesters' version of events differs from that given by the police. Demonstrators said police threw smoke grenades and explosives at them. Of three people released over the next few days, one said he was beaten while in custody.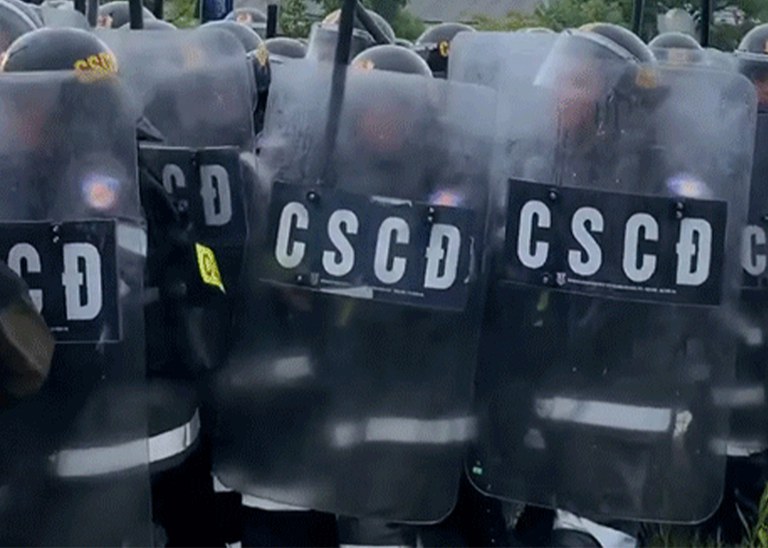 No lawyers, no families in court
The seven defendants had no legal counseling and their relatives said they were not permitted to attend last week's trial.
"I went to the detention center on November 29 to send things to my wife, but they didn't say anything [about the following day's trial]," Ha Thi Hien's husband Nguyen Minh Duc told RFA, adding that none of the defendants' families had been informed.
"On the morning of November 30, around 7:30 a.m., there were two commune policemen in plain clothes walking along the street saying: 'Today the trial is in the province, the families should go to see how it goes.' The families were about to go when Mrs. Hoa came back from the hearing. She said that the trial was held in the district and not in the province."
Duc said his wife and other defendants did not have defense attorneys because the police had told their families that if they hired lawyers the sentences would be heavier.
The seven were held in a Nghe An provincial Police detention center for the past four months. During that time, Duc said he only saw his wife twice, for five minutes each time. He said the other six defendants were only allowed to see their families once for five minutes.
Duc called the sentences unfair and too long, saying the people of Binh Thuan parish just wanted to protect a road that has existed for more than 100 years and helped locals go about their business.
He said his wife did not take part in any of the actions listed in the indictment, fellow defendant Ha Van Hanh only recorded a video of police grabbing people, and Bach Thi Hoa was found guilty despite suffering two broken ribs during her non-violent protest.
Duc said the prison sentence will seriously affect his family's life because he has to take time off work to take care of his two children – a two-year-old and an eight-year-old.