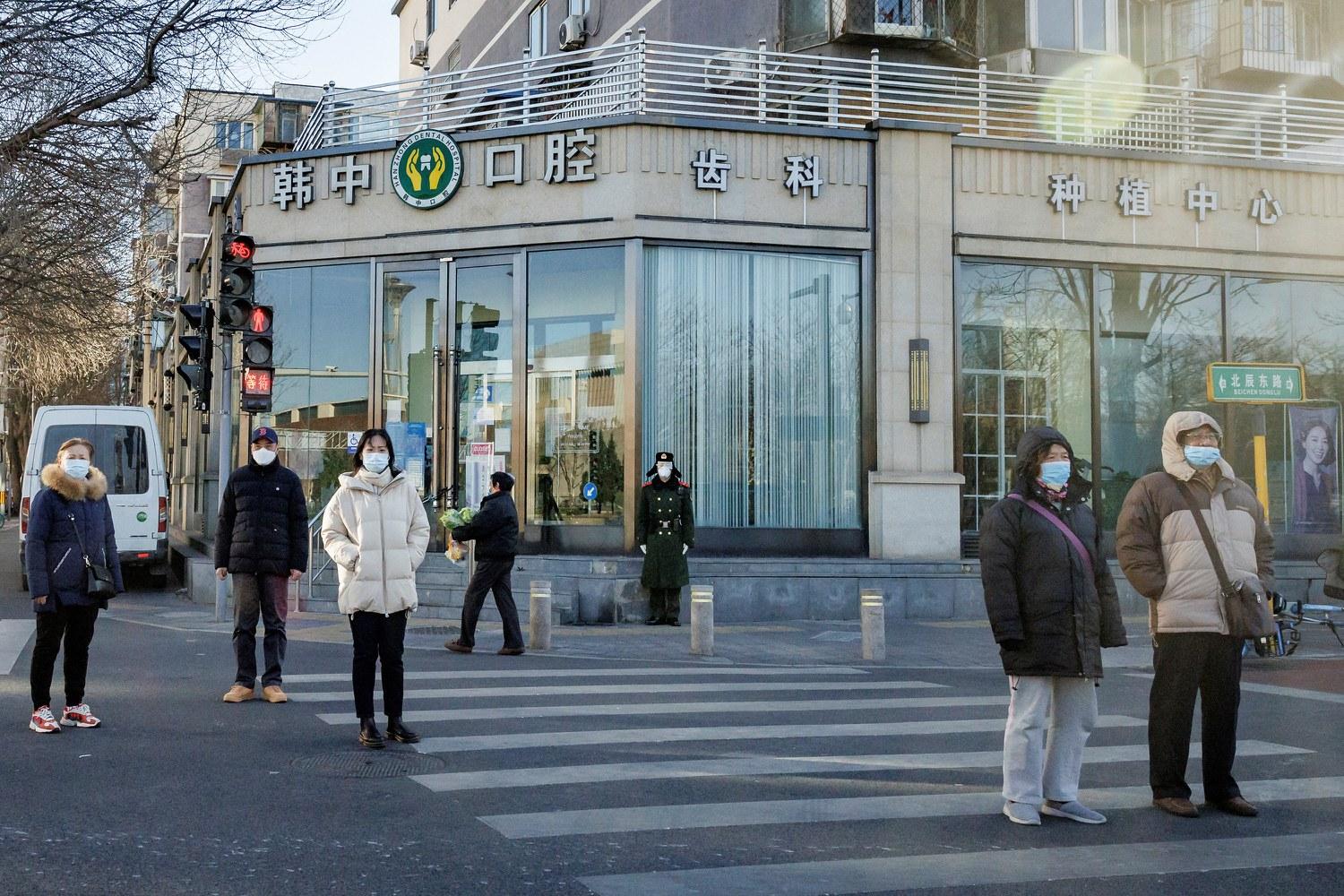 Authorities in China are stepping up security and easing COVID-19 restrictions following the death of late Communist Party leader Jiang Zemin, as political commentators said public mourning activities could become the focus of further unrest in the country.
Jiang's death came amid ongoing unrest sparked by current leader Xi Jinping's zero-COVID policy of rolling lockdowns, constant compulsory testing and mass surveillance and restrictions on people's movements.
There are strong precedents for security concerns, given that public mourning for late Communist Party leader Hu Yaobang triggered mass protests on Tiananmen Square that spread around the country in 1989.
The Communist Party's official People's Daily newspaper printed its entire front page in black and white on Thursday, the day after Jiang died, with a funeral portrait and a banner headline that read: "Our Immortal Comrade Jiang Zemin," the same wording used in erroneous and premature reports of his death in 2011.
All other newspapers — including the People's Liberation Army Daily, the Economic Daily and the Guangming Daily — used the same photo and headline, with the same black-and-white format, and only slight variations in story text.
Guangzhou rollbacks
The national mourning period came as authorities in the southern city of Guangzhou rolled back some COVID restrictions following clashes between protesters and riot police, prompting large numbers of migrant workers to leave the city, according to social media reports.
Restrictions were eased in the Haizhu, Liwan, Tianhe and Conghua districts on Nov. 20, with restaurants reopening for dine-in service, local governments announced via their official social media accounts.
A Liwan resident who gave only the surname Liang for fear of reprisals said many people had been taken by surprise by the speed of the announcement.
"The shops have been gradually opening up again, but some haven't been able to stay open and have shut down again, because their managers and employees have left town," Liang said.
"There aren't many people on the streets … [and] it's mostly the small food stalls open, with the big restaurants … all still closed," he said, adding that many people have headed back to their family homes in other provinces ahead of the Lunar New Year rush in January.
The southwestern megacity of Chongqing also said on Nov. 30 that it would ease some COVID-19 restrictions.
Wistful reflection
Political commentator Wang Juntao said the authorities are likely worried that Jiang's death could provide yet another focus for unrest, given that many in China look back on his tenure as an era of relative freedom and prosperity, compared with the past few years under Xi.
"Jiang Zemin's death has come right at the moment when the ruling class are feeling desperate, while the general population is hugely dissatisfied with the zero-COVID policy," Wang told RFA. "The combination of these two factors will likely set the stage for political agitation on a large scale."
Wang cited a heavy police presence already on the streets of Beijing and Shanghai, while Hong Kong's Chinese-language Ming Pao reported increased identity checks of people in Tiananmen Square.
"This is because they believe that if they can control this kind of situation in Beijing, then there won't be any problems elsewhere," Wang said. "But actually, a rebellion from the bottom up could cause the collapse [of that control]."
The Communist Party's top security agency, the Political and Legal Affairs Commission, warned in a Nov. 29 statement that the authorities would "resolutely crack down" on any further unrest, which it said was being instigated by "foreign forces."
Former 1979 Democracy Wall campaigner Wei Jingsheng said Jiang's rule is now regarded as a period of relative openness in China, particularly with regard to the much warmer ties with the United States during that time.
"[The current leadership] fears that the United States and the West will gain greater and greater influence over the [Chinese] people," Wei told RFA. "This is the thing they're so worried about, that this could shake the stability of their regime."
'People are pessimistic about the future'
A Shanghai resident who said he was born in the 1980s said he had a sense of nostalgia for the Jiang Zemin era.
"It was a time when the Chinese people were in high spirits," said the man, who asked to remain anonymous for fear of reprisals, told RFA on Nov. 30. "Nowadays, most people are pessimistic about the future. The feeling that things are getting better every day is very different from feeling that they're getting worse."
Twitter user Qin Xian appeared to agree, comparing Jiang's tenure with the harsh enforcement of anti-flu restrictions in today's China.
"Back then, there was no need to fear the police, or the crazy residential committees, concierges or volunteers," Qin wrote. "There was always some way to make money, and you could bribe officials to get stuff done."
Businessman Cheng Jun, who hails from Jiang Zemin's hometown of Yangzhou, said many Chinese are at the end of their patience with the zero-COVID restrictions, and could take the opportunity of Jiang's death to vent their dissatisfaction on the streets.
"The likelihood of that happening is fairly high," Cheng said. "People have been standing up all around the country during the past week, particularly in colleges and universities, to show their dissatisfaction with current policies."
"At the time [Jiang Zemin was in charge], we had very rapid economic development here in Yangzhou and Jiangsu, but the worst thing about it was the corruption, particularly among grassroots officials," he said. "It could be that people will come out and start organizing protests at this point."
Meanwhile, Xi Jinping will chair Jiang's funeral preparation committee, whose members will include Hong Kong leader John Lee and Macau leader Ho Iat-seng, according to state media.
Jiang's cremation and funeral is scheduled for Dec. 5, with an official memorial ceremony on the following day, reports said.
Foreign governments, political parties or friends of China aren't being invited to send delegations or representatives to take part in official mourning activities.
Flags will be flown at half-staff on Tiananmen Square, at Xinhua Gate and over the Great Hall of the People, among other official buildings in Beijing, with Chinese embassies and consulates and liaison offices following suit, as well as offering condolence books for the public to sign, according to official media reports.
Translated and edited by Luisetta Mudie. Edited by Malcolm Foster.