With inflation surging to 34 percent in Laos, many households are struggling to pay for basic necessities, and some government employees are taking second jobs or quitting to earn more in the private sector to just to put food on the table, sources in the country told Radio Free Asia.
September's year-on-year inflation rate was the highest in 22 years, Xinhua reported. That, combined with an ongoing devaluation of Laos' currency, the kip, have caused prices of food and gas to climb ever higher, and people are tightening their belts as they are able to afford less and less.
Meanwhile, paychecks have not risen. The basic salary for state employees is 1.2 million kip, or $69, per month – equivalent to minimum wage. An increase to 1.3 million is scheduled for May 2023.
"Faced with this heavy burden, the cost of living is too high. For example, rice, if we compare that with last year, is higher, but our salary is the same," a state employee, who requested anonymity to speak freely, told RFA's Lao Service.
RFA reported in June that runaway inflation had caused prices of many foodstuffs to double in price since June of the previous year and over the same period of time, the kip had depreciated by about 48 percent against the U.S. dollar, raising the price of imported goods. Since then, food prices have continued to rise and the kips value has continued to fall.
The rampant inflation, the kip's devaluation and shortages of food and gas are all interrelated. Laos relies heavily on imports and requires foreign currency to buy goods from abroad. As supplies of baht, yuan and dollars dwindled, importers began paying more for them.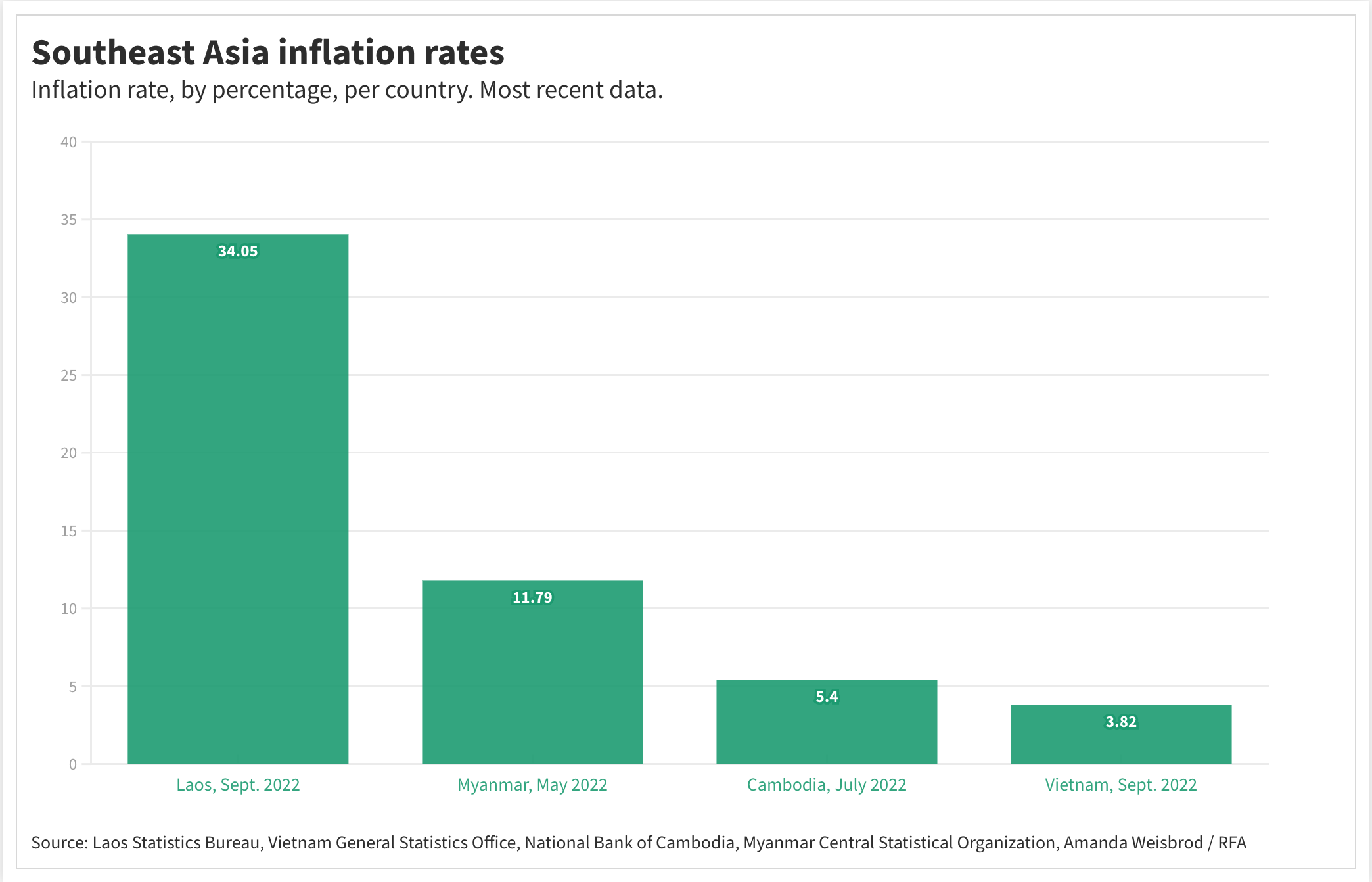 "Our salary is not enough, especially for most state employees. With a bachelor's degree you get paid only 1.8 million kip, or about $104, per month, and can't afford daily expenses like groceries and gas," the state employee said.
"Anything that is not a necessity will have to be reduced," another state employee, from the northern province of Luang Prabang, told RFA. "We have been bringing our lunch to eat at the office every day instead of eating out, and other expenses that aren't so important, we should reduce. The government had plans to solve the problem but up until now it cannot be solved."
"People are clamoring on social media for the government to do something about this, but nothing changes," he said.
Some government workers are quitting their jobs to move to the private sector, a state employee from the southeastern province of Kham Mouane told RFA on condition of anonymity for security reasons. Many private sector jobs pay between 2 and 5 million kip per month.
"My husband and I are state employees who rely only on our salaries, about 1.4 million kip per month," she said. "That's not enough to feed the family because the price of food is too high."
A bank employee who earns 5 million kip ($289) per month told RFA that the family spends the equivalent of between $5 to $10 per day on food.
"I have to pay for milk, noodle soup, these things we must buy every day. Larger families are in a worse situation and they probably have to pay 1 million kip per month," he said. "If the economic situation does not stabilize, we will have to buy more food for stockpiling."
According to a report by the Lao Statistics Bureau, the country's inflation rate climbed to 12.8 percent on the year in May, its highest rate in 18 years. Since then, the on-year inflation rate increased each month, reaching as high as 30.01 percent in August, then breaking the 22-year record in September.
RFA reported in June that the government had taken to blaming the devalued kip on black market money changers and introduced measures to maintain the value of its currency, none of which have seemed to work.
The dollar to kip exchange rate had been relatively stable until mid-2021, and it rose to 10,000 kip per dollar for the first time since 2005 in October 2021. The sharp decline continued and the kip now sits at nearly 17,000 per dollar.
Translated by Sidney Khotpanya. Written in English by Eugene Whong.