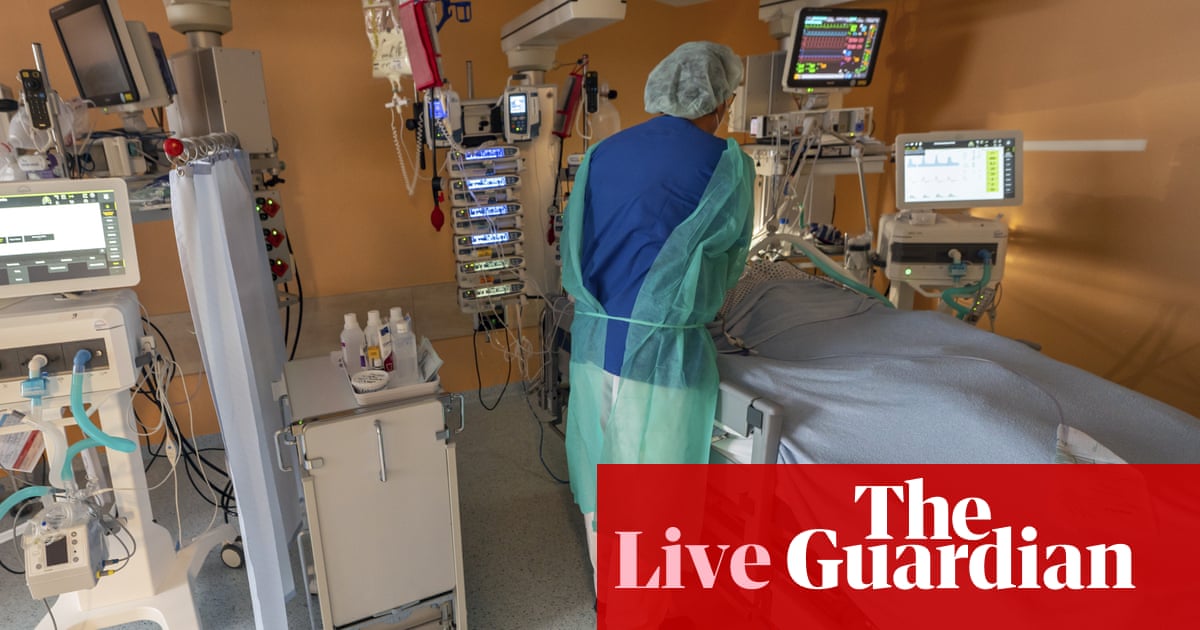 Austria said only those vaccinated or recovered from coronavirus would be allowed to frequent restaurants, hotels and cultural venues. The new rule takes effect on Monday with a four-week transition phase to incentivise people to get jabbed, chancellor Alexander Schallenberg said.
There have been a further 193 deaths within 28 days of a positive test for coronavirus in the UK, according to the latest official data. The government's coronavirus dashboard also reported 34,029 more people testing positive for coronavirus on Friday, and 1,072 patients admitted to hospital.
The US has secured millions of doses of Pfizer's experimental antiviral pill, in case it turns out to be an effective treatment for Covid-19, the president, Joe Biden, said on Friday.
Every single person in Germany should have a Covid-19 vaccine booster jab, the country's regional health ministers have agreed, as the a fourth wave of pandemic appeared to be swelling in the country.
The German state of Saxony has announced sweeping new curbs for people who have not been vaccinated against Covid-19 or recovered from the disease, AFP reports. From Monday, access to indoor dining and other indoor events will be limited to those who are fully vaccinated or can show proof of recovery, local government minister Petra Koepping told a news conference in Dresden.
The Covid death toll in Romania passed 50,000 on Friday, after a further 483 deaths from the disease were reported as a fourth wave of pandemic sweeps the country.
French president Emmanuel Macron is to speak to the nation on Tuesday evening about the resurgence of Covid-19 infections as well as other issues including economic reforms, government spokesman Gabriel Attal said.
Every person in Malta will be offered Covid-19 vaccine booster doses, after a recent increase in cases, the health minister said on Friday.
Eleven US states have launched legal actions to challenge a new federal vaccine requirement for workers at companies with more than 100 employees, a key component of Joe Biden's Covid response plan.
Japan will ease border controls for fully vaccinated travellers, excluding tourists, from Monday, responding to lobbying by businesses that followed a rapid decline in infections.
Authorities in Croatia are to limit gatherings and widen the use of Covid passports after the numbers of infected people hit new records again on Friday.
The US is preparing for long lines and delays on Monday when restrictions are lifted on non-US citizen international travelers who are fully vaccinated against the coronavirus, a senior official told Reuters.
President Joe Biden's administration "expects pent-up demand for travel, which means longer than normal wait times for travelers," the official said. The government was boosting staffing to pre-pandemic levels but "long lines are expected in the initial days. The US on Monday is lifting travel restrictions for fully vaccinated air travelers from 33 countries and at its land borders with Mexico and Canada, ending the historic entry bans to address the spread of Covid-19 for much of the world's population.
Brazil registered 389 new Covid-19 deaths on Friday and 13,321 additional cases, according to data released by the country's health ministry.
The South American country has now registered a total of 609,060 coronavirus deaths and 21,862,458 total confirmed cases, Reuters reports.
US company Ocugen announced that it had asked authorities for emergency use authorisation for Covid-19 vaccine Covaxin, which was developed in India, for ages 2 to 18.
Ocugen's data, gathered from clinical trials conducted outside of the United States with only a small group of children, may not be enough for the Food and Drug Administration (FDA) to grant the request.
Covaxin, developed in India by Ocugen's partner, Bharat Biotech, gained emergency approval from the World Health Organization on Wednesday and has already been cleared for use in 17 countries.
Among the rules to be introduced in Austria are barring the unvaccinated from hotels, events of more than 25 people and, importantly for a country that is a winter sports hotspot, ski lifts.
There will be a four-week transition period in which a first vaccination plus a PCR test will grant admission to places where the unvaccinated will be banned, Reuters reports. After that, only the fully vaccinated and those who have recently recovered from a coronavirus infection will be let in. While those dining out will have to show they have been vaccinated, the waiters serving them will not.
For the latest Covid developments in Australia, you can follow our dedicated blog here –
Wall Street's main indexes scored record closing highs on Friday and booked solid gains for the week following a strong U.S. jobs report and positive data for Pfizer's experimental pill against Covid-19, Reuters reports.
The S&P 500 and the Nasdaq notched record high closes for their seventh straight sessions, while the Dow Jones Industrial Average also closed at a record. All three indexes posted weekly gains for their fifth straight weeks. The Labor Department report showed U.S. employment increased more than expected in October as the headwind from the surge in Covid-19 infections over the summer subsided. A trial of Pfizer Inc's experimental antiviral pill for coronavirus was stopped early after the drug was shown to cut by 89% the chances of hospitalisation or death for adults at risk of developing severe disease. Pfizer shares jumped about 11%.
Austria said only those vaccinated or recovered from coronavirus would be allowed to frequent restaurants, hotels and cultural venues.
The new rule takes effect on Monday with a four-week transition phase to incentivise people to get jabbed, chancellor Alexander Schallenberg said.
"No one wants to split the society, but it is our responsibility to protect the people in our country," he told a news conference.
The EU member of almost nine million people recorded more than 9,300 new daily cases Friday, a fresh record for this year, AFP reports.
Green Bay Packers quarterback Aaron Rodgers said Friday he sought alternative treatments instead of the NFL-endorsed Covid-19 vaccinations because of an allergy he has to ingredients in two of the FDA-approved jabs.
Speaking on SiriusXM's Pat McAfee Show, Rodgers said: "I'm not an anti-vax, flat-earther. I have an allergy to an ingredient that's in the mRNA vaccines.
"I found a long-term immunisation protocol to protect myself and I'm very proud of the research that went into that."
Pfizer Inc is in discussions with 90 countries over supply contracts for its experimental Covid-19 pill, which was shown to reduce by 89% the risk of hospitalisation or death in patients at high risk of severe illness.
Chief executive officer Albert Bourla said Pfizer expects to price its treatment, called Paxlovid, close to where rival Merck & Co Inc has priced its oral antiviral drug candidate. Merck's U.S. contract price for its pill molnupiriavr is around $700 for a five-day course of therapy, Reuters reports.
New data shows Aboriginal people in NSW and the ACT have been heavily and disproportionately affected by Covid-19, amid concerns that even after two months of "surge" efforts in 30 Indigenous communities, vaccination rates will not be high enough to withstand further outbreaks.
Ten per cent of all Covid cases in NSW and the ACT are Aboriginal and Islander people, meaning they have been affected at twice the rate of other Australians.
In the past three months, there have been 7,000 cases, 700 hospitalisations, 80 people in ICU and 14 deaths among Aboriginal people, according to data from the National Aboriginal community controlled health organisation (NACCHO).
France reported 8,998 new coronavirus cases on Friday, Reuters reports.
The country has had more than 7.1 million cases overall.